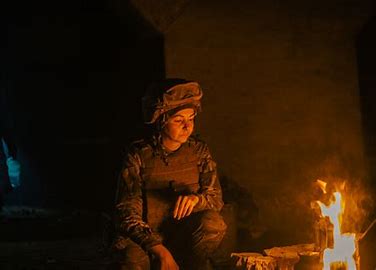 Pinning shadows against walls.
Raise me up. Raise me up.
Feeling the breathing of fire blazes.
Raise me up. Raise me up.
Creeping frozen darkness up on me.
Warm me up. Warm me up.
Leading flames on my own.
Warm me up. Warm me up.
*Because my friend sent me some photos by Call Orestes, Dmytro Kozatskyi, and told me as follows:
"And this text I read in Telegram:
"Thank you for sheltering Azovstal – the place of my death and my life," – said Dmitry on the call sign "Orestes", a soldier of the Azov Regiment.
Today he released his photos of the defenders of Mariupol with a call to the world media and those who care to distribute them.
"By the way, while I'm in captivity, I'll leave you photos in the best quality, send them to all journalistic awards and photo contests, if I win something, after the release it will be very nice. Thank you all for your support. See you, "Orest wrote.
These photos shred the soul and make even more admirers of Azovstal – everyone should see them.
Distribute, tell the story of Ukrainian heroes. The original photo is available at:
https://drive.google.com/drive/folders/1efz3M_yHIJG6EYB57J9Di8V85MJco51I?fbclid=IwAR1HLxQ2NomjJlTz3A-cB1k5WKR2D
 Author photos: Call Orestes, Kozatsky_D / Twitter"
So, I wrote this poem for his photo, DSC02782.jpg. Please look at his original photo.
**My friend shows you this poem also on the Ukrainian website for their children and others! You can also hear my voice, singing this poem.
Kurama (Japan). «A poet at a fire» — a poem about war in Ukraine – Мала Сторінка (storinka.org)
Please join them, and please, please, listen to the beautiful voice of 'Singing soldier of Azovstal' Paramedic Kateryna "Ptashka" on this page.
***What great works these photos by Dmytro Kozatskyi are!
My friend told me like this:
"And we have the news about Dmytro Kozatsky:
'Defender of Mariupol and photographer of the "Azov" Dmytro Kozatsky with the call sign "Orest" received a special award of the POLISH Grand Press Photo 2022.
He shared photos from Azovstal on his social networks.'
It's super!!!"
****Maybe already you know this wonderful news with some photos:
"Kateryna Polishchuk, who was captured by Russian forces while defending the Azovstal steel works in Mariupol, reacts as she speaks on the phone following the exchange"
Ukraine war: Russia pushes ahead with enlisting new troops – BBC News